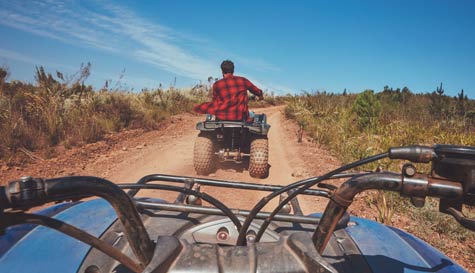 Quad biking is a staple stag party activity over here in England, but our quad biking near the Latvian capital of Riga is unlike anything you'll find at home. Once you've arrived on site and ticked off the obligatory safety briefing, you'll head out onto the track where you'll be treated to one of the most unique off-road experiences we have on offer.

This track in Riga is located partially on an old USSR firing ground. This means, you got it, armour plate pits, bunkers and tanks to swerve around. The scenery as you carve through this one of a kind track is perfect for you and the lads to recreate every classic Bond escape from an enemy base ever, as well as getting your mates covered in the brown stuff as you go.

As well as this you'll be riding through thick swampland meaning it won't all be as simple as exercising your motor's right to remain very bloody loud. You'll need all your driving skill to negotiate your way through an ever-changing course which is part race-track, part obstacle course in the ultimate test of any lads driving ability.

This really is the perfect quad bikes stag party in Riga. Latvia is home to some epic terrain which you'll be allowed to run roughshod over in order to show the lads who is truly the boss when it comes to off-road riding.