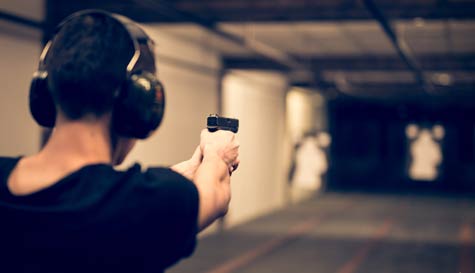 'I know what you're thinking, punk. You're thinking "did he fire six shots or only five?". Now to tell you the truth, I forgot myself in all this excitement...'

This really is your perfect chance to get all Dirty Harry as you get your hands on some of the most exciting, infamous handguns and automatics in the world. There are a few activities in Riga that you can't take on in the UK, but there might be none so adrenaline-inducing as this. You and the lads will get hands-on with high-powered firearms that will show zero prejudice to whichever target you shoot them at.

Not only will you get to fire these incredible feats of military engineering, but you'll also get the chance to have some friendly competition.

Discover who your party's 'Top Gun' is and who's going to be paying a stag forfeit for their total lack of shooting skills. Although with our experienced instructors on hand at all times to offer some top tips, the playing field might become more level than you'd expect. The range itself is a carefully controlled, safe environment with numerous booths, so you won't be waiting around for your turn to shoot.

It's a good thing too, because with the exciting range of guns on offer here, you'll want as much time on the trigger as you can manage. Get hands-on with AK47s, Glocks, Makarovs, Winchesters and Taurus' and show off all your sharpshooting skills. If there are lads in your group who keep bragging about their nerves of steel on Call of Duty, now's the time for them to stop talking the talk, and to start taking the shot!