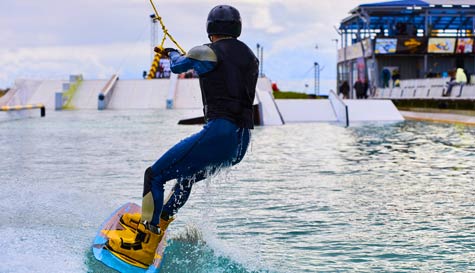 When Riga gets hot and sweaty, cooling off can seem like an impossible task. The Latvian capital can get seriously humid, but that doesn't mean that the stag action has to migrate inside an air-conditioned bar to continue. No, wakeboarding is the perfect way to beat the heat.

Wakeboarding is described as a combination of snowboarding, water-skiing and surfing; in answer to your next question, yes, it is as awesome as it sounds, and it only gets better.

This epic watersport also involves being attached to a motor-boat to be pulled along at speeds of 30-40mph, which is pretty terrifying when you're this close to the water, and, you know, standing on what resembles a miniature snowboard.

There are plenty of opportunities for big laughs here, as the lads are sure to take a few dunks in the water before they get the hang of this. But with some top tips from experienced instructors, confidence will quickly build and before you know it you could be pulling off some seriously smooth tricks and jumps on the water.

Wakeboarding could prove to be one of the standout events of your weekend, it's a great way to kick off a day of action or to cool off before heading back into town for that big night out. Whenever you decide to hit the water on your epic weekend, you're sure to have an unforgettable time, especially if the groom's a little precious about his 'perfect' barnet...