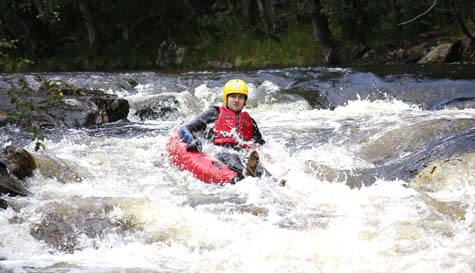 Riverbugs are perfect for the adrenaline junkie and couch potato. How so? You ask, well it's simple, adrenaline junkies will get to try one of the coolest new watersports which in essence is sitting in really comfy seats (big tick for the couch potatoes), it just happens that that seat has been thrown into whitewater and will be racing down at a crazy speed as you desperately try to steer it with your body to stay afloat and look cool doing it.
This is definitely the whitewater thrill ride you never knew you needed. Riverbugging is one of the few extreme watersports that caters to both the hardcore whitewater rafter and the lazy man, combining all the exhilaration of riding the rapids with single-seated crafts that look a bit like floating armchairs. Riding solo is considerably more terrifying, with far less stability and fewer hands to paddle like f**k when things get hairy. Despite the unusual name, riverbugs should probably come with 'balls of steel' as a requirement for entry. But if you're man enough, this really is a one of a kind thrill ride.
The riverbugs might look a lot like somewhere for you to lay back and relax but don't be fooled, once these bad boys are in the water they're seriously fast and dangerously furious. There's no hiding behind fellow stags in river bugging; each lad will have to step up and display his own nerve and daring as he takes on this white-knuckle course.
Riverbugs are a great way to get the lads into the water for some wet and wild, full-throttle action on your big weekend. Mad, bad and hilarious to know it's something the guys are unlikely to have tried before but will definitely sort the stags from the boys and kill or cure those hangovers.