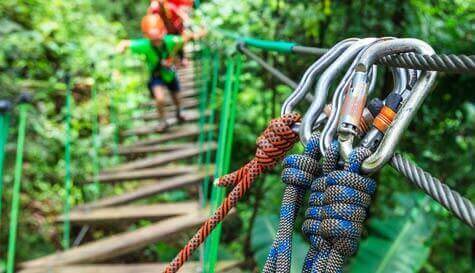 Stag dos are all about male bonding, and they are also a great opportunity not just to get out and do something against the norm but also to really challenge yourselves.

And this is quite literally the biggest challenge you'll find.

We'll test you to your very limits in a bid to find the king of the swingers. You'll take giant leaps of faith and trek, crawl, swing, swagger and glide through treetops. You'll fly down mammoth zip wires and overcome some major tests of your skills and courage, all while being cheered or jeered by your mates (we guess it depends whether they're a caring and cuddly or just downright cruel... probably the latter).

Once the instructors are happy with your progress you'll be let loose to explore the site and challenges at your own speed.

One of the real pluses with the high ropes course is the great opportunity for banter between the lads, but you'll also find new respect for each other with the apparently death-defying challenges you'll come up against. This an adrenalin-fuelled afternoon of the highest order and something you and the lads will remember for years to come.