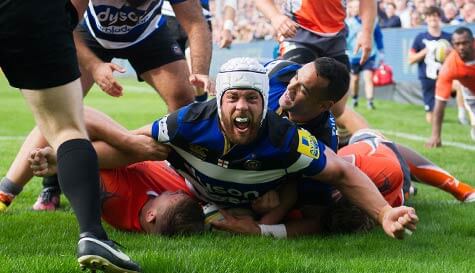 Get your rugby shirts on, get the pints in and settle down for a thrilling 80 minutes of incredible sporting action. Non-stop action, bone-crunching tackles, giant beards, pints and pies... This really is a sport for real men without a whiff of fake tan or fake injury like certain other sports (yeah football, we're looking at you!).
The roar of the crowd, the cold crisp pint in one hand, the hot meaty pie in the other as you and the guys join in the banter and soak up the party atmosphere. It's the perfect pre-curser to a night on the town. But you needn't be restricted to Bath Rec (although it's a ground you'll often find a number of the StagWeb team, with aforementioned pints and pies). We can provide tickets to games across the UK, from Edinburgh to Reading, Cardiff to Newcastle. Then there are the international fixtures such as the Six Nations. Or if you prefer a bit more sun while enjoying the egg chasers you can head to Rome or even the spectacle of the international sevens tournament in Las Vegas.
As well as tickets, we can provide full hospitality packages or you can keep things simple with a pre-or post-match meal. Most stadiums are all really close to the city centres, giving you quick access to bars, restaurants and clubs to continue a great day/evening. Ask our team about creating a full package around the best rugby action on your chosen dates.