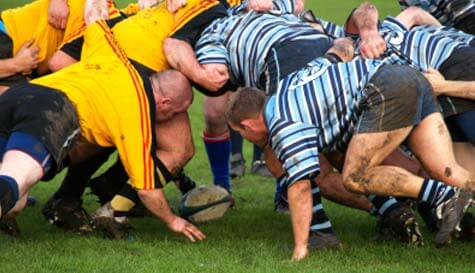 Possibly the greatest team sport in the world, get ready to scrum down, play with oddly shaped balls and get into a ruck with fifteen bulky chaps on our fantastic rugby playing activity!

Enjoy the action and remember that playing rugby doesn't end when the match ends, oh no! You can get all the lads riding their sweet chariots well into the early hours of the morning if you choose to hit the pub afterwards! Watching the sport of gentlemen on TV is one of life's great pleasures for sure but if we're totally frank, nothing compares to jumping off the couch, putting the tinny down and hitting the grass for some down and dirty stag carnage!

Getting involved in a good game at our awesome pitches is a truly epic day out that you and the boys will love and remember for years to come. Play out on a top-quality grass, 3G or Astroturf pitch and get stuck right into a 15 a side game of marvellously muddy rugby with your best mates. As long as everyone's fit, knows the rules and isn't afraid to get their hands dirty, playing rugby is the perfect fix for your Saturday afternoon!