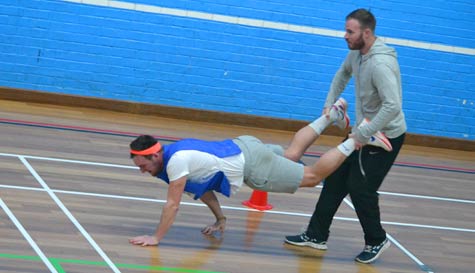 This epic stag party school sports day session takes you back to class and for some creates a chance to relive former sporting glory (possibly their only?).

This is the chance to relive the past - but without the anxiety of speaking to intimidating girls, unwanted acne or getting a wedgie from the bigger lads (actually you could still get a wedgie from the bigger lads but hopefully the rest of the stags have grown up a little by now? Ok, maybe not).

Featuring all the classic old school sports you'll be split into teams/classes for some hilarious stag do sporting action with a special prize being awarded for the team who finish first and forfeits for the losers such as... well, let's just say you really don't want to finish last.

Games will include a selection of the following (exact games may vary on the day, so please let us know if you have any you'd particularly like at your stag party):
Egg and Spoon race
Beanbag on head race
Wheelbarrow race
Spacehopper race
Sack race
Hula Hoop race
3 Legged race
Skipping race
Relay race
To really get into the swing of things you can give all the lads classic school nicknames or make sure the lads come in school uniform. Punishments and forfeits will be set throughout the session. And of course cheating is absolutely (frowned upon) encouraged! Well it is a stag do, if we wanted sporting heroes we'd go to the Olympics, this is all about having fun and if you're doing that at each other's expense and no one gets hurt then who are we to interfere?

So if you're up for the challenge it's time to go back to school. As for the rest of you... See me after class!