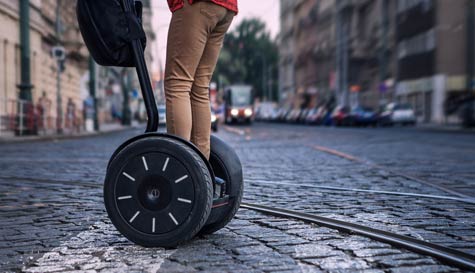 It can be a tough call, you're on a stag weekend and therefore need to spend the right amount of time enjoying liquid refreshments and playing stag pranks on the groom, but you also want to make time to see the fantastic European city. If only there was a way to do some high-speed sightseeing while having plenty of laughs....
Well, now there is!
In our search for the best stag weekend activities, we listened to guys saying they had bags of fun but never got to see the city. So we tracked down our tour guides across Europe and told them to get a wriggle on and the stag party Segway tour was born. For those not in the know, Segways are upright personal transport machines that look like something from Star Wars and cover ground like Usain Bolt.
Mad, bad and hilarious to know they are quite simply brilliant fun to drive, that means you really can please all the people all of the time; stags that want to see the sights will feel like they haven't missed out on the cultural aspects of their visit, while those stags that wouldn't be considered 'culture vultures' can simply enjoy the speed and handling.
And Segways really are brilliant to drive! No steering wheel, it's all down to weight distribution, lean left to go left, right to go right, lean forward to speed up and lean backwards to slow/stop. Depending on how hard or fast you lean will alter how quickly the Segway manoeuvres. Get it right and you'll soon be tearing through the mean streets like a natural. Get it wrong and you'll be looking up from the pavement while the rest of the stags bag their snaps and starts plastering you all over social media. All it takes is one over-eager trick or piece of cornering and YouTube stardom awaits!
During our stag party Segway tours, when you're not laughing at each other's driving you'll get to see the very best the city has to offer with one of our expert guides leading the charge.