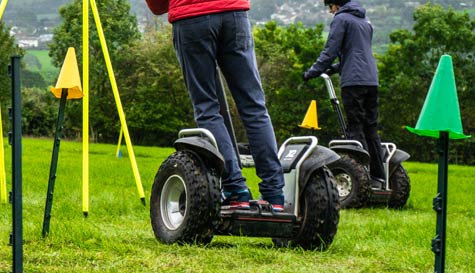 Why walk when you can lean? Well walking is good, we're not disputing that, in fact there are some health benefits involved and there's less chance of running over your mate a few weeks ahead of his weeding. But zipping along on what looks like a two-wheeled, gravity-defying, laughter-filled rad-ride is just brilliant!

In fact there is only one downside to Segway racing; you'll never want to walk anywhere again.

You and the boys will get to push these little bad boys to their ultimate limits and race each other while trying not to fall off from laughing. You and the lads will be in stitches as you uncover the sheer joy of these electric all-terrain personal transporters (yes, when you give them the proper description they sound like something Luke Skywalker would race). They're pretty nippy, a lot of fun and highly manoeuvrable.

This brand new Segway technology balances itself perfectly to keep upright and in total control and they're also very, very difficult to tip over, so give forfeits and pint penalties to any stags who actually manage it! Steering is stupidly easy - lean forward to go forward, lean back to stop and turn by using a 'lean steer' handlebar, leaning it left or right. They're very simple to drive, so if you're looking for an unusual driving activity, Segway racing is unique, totally unusual and bloody funny!