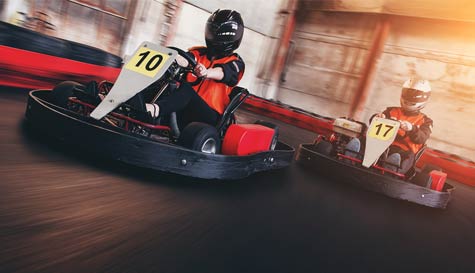 Tired of hearing the same old argument among the guys about who is the best driver? Or perhaps you just need to show the groom the error of his Sunday driving, caravan towing ways? Or perhaps you just feel the need for speed? Whatever the case, our Sheffield stag party go kart racing is quite simply EPIC!
This is high speed, wheel to wheel action from beginning to end where if you're lucky, not only will you be the one to take the chequered flag but you'll all get to see the groom spectacularly park it on the tyre wall.
Getting down to specifics; you'll take to the track in 200cc Biz karts. Now that might not sound like much power but these superlight bad boys are capable of hitting speeds up to 40mph, which when your backside is whizzing along just inches from the tarmac, feels ****ing fast! Seriously chaps, these mini machines shift like Schumacher off a shovel, a sensation which feels even better when you know the rest of the stags are swallowing your exhaust fumes.
The site houses three superb tracks with multi-levels and tyre walls for when you nudge the groom sideways. Sod winning! Just make sure you don't come in last otherwise you'll be hearing about it for weeks, possibly years to come.
But as great 'man challenges' go our Sheffield stag party go karting is an absolute winner. So get revved up and get booking, this is a hugely popular activity so please enquire early to avoid disappointment.