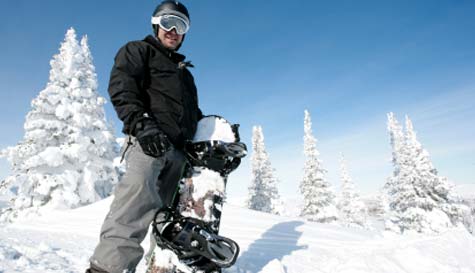 Head out on the piste with the lads for some stag party snowboarding. This is a great lads' activity for snowboarders, skiers or complete novices alike. Those that know there way around a mountain can help the newbies to get upright.

If you need tuition we can arrange for experienced snowboard instructors to be on hand to show you all how it's done. For those already in the know, our guides will help you get a bit more from your session and add a few new skills to your boarding arsenal.

Snowboarding itself has been around since the 1920's when lads would get together and strap wooden planks from beer barrels to their feet using clotheslines. Thankfully we're a bit more advanced in the 21st century and we offer the very best in quality snowboards and excellent instruction.

Now, while we can't promise to turn you all into Olympic champs you can be sure of a superb afternoon with plenty of banter between the lads, especially if there are a few board virgins in the party. The great thing with learning to snowboard is there are always people around willing to help you out, and as you get started and as long as you stick to the slower, softer snow you shouldn't do yourself much damage.

Helmets, boards, ski passes are all included, however, you will need to provide your own ski wear (although this can often be hired on-site, please check with our team before booking).

However, there is still nothing better than seeing the groom stack it or take a face-plant into a drift of freshly laid snow. Get it on camera and it will make a great inclusion into the best man's speech or a little something for Facebook.