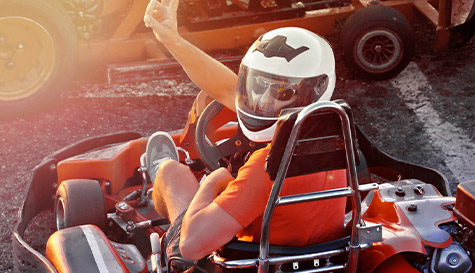 Make no mistake about it, go karting is an absolute classic that ticks all the boxes as a legendary stag activity. An adrenaline-fuelled, heart pumping, competitive ride which feels even faster for the fact that your backside is speeding just a few centimetres off the tarmac.

Fast-paced thrill ride? Check.
Some seriously competitive stag action? Check.
Bragging rights for the winner and forfeit for the loser? Double check!

Our championship, 1km go karting track in Sofia is absolutely awesome, pushing each stag to the limit of their driving abilities as you all go hell for leather in some wheel to wheel action. You will each have two 15 minute sessions around the track to show your mettle behind the wheel; the first a practice and the second a proper race. Afterwards, there is a champagne podium presentation for the victor, so you can properly crown your stag Stig while all being able to stand and point at your own "Captain Slow".

As well as offering fast-paced action and plenty of fuel for pre and post-race banter our superb Sofia track is the perfect antidote to hours of sitting in rush hour traffic back home. The lads will be able to relieve themselves of all that pent up road rage and let rip over 1000 metres of pristine racing surface.

NOTE: You are also able to rent out the whole track privately if you wish. Please speak to your account manager for details.