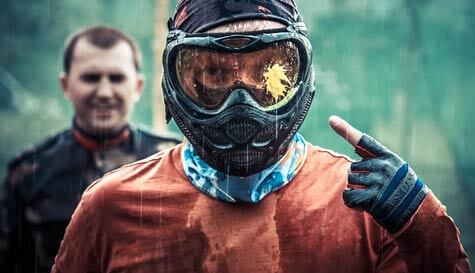 When it comes to quintessential lads' activities paintball really does stand head and shoulders above all others. Not only is it a hugely competitive game, with plenty of fast paced action, laughs and banter but has the added bonus of being one of the few chances you'll get to shoot your closest mates in the head!

If you and the lads think you're a dab hand at "Call of Duty" then this is your chance to show your expertise on the battlefield. Of course you'll need the rest of your team for back-up, only John McClane can take on so much firepower and expect not to 'Die Hard'. Although you can give a cheery "Yippee-ki-yay mother-f..." as you let off round after round of paintballs, taking out your targets with unerring precision as is the call of duty of any stag.

What's more, our Sofia paintballing venue is absolutely epic! Set inside an abandoned warehouse. Believe us, you won't find a location like this anywhere in Europe, it has to be seen to be believed! You will be playing a variety of games such as capture the flag and target the stag, (no need to mention that one to the groom until he looks like he's gone 12 rounds with the Dulux dog.