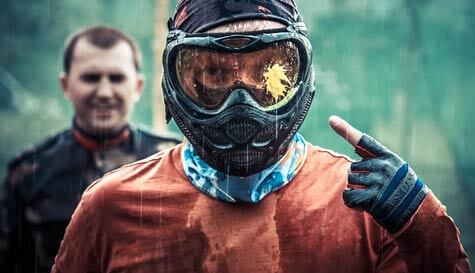 Paintball remains a firm favourite with stag parties for one very good reason... It's EPIC! Where else do you get to point a gun at your best mate's gentleman's vegetables and pull the trigger? Repeatedly.

Our Southampton stag party paintball site is truly epic, there are 7 different game zones including:
Chemical Alley
Command Post
London Apocalypse
Graveyard
Viet Cong Village
And more...
You'll be issued with state-of-the-art weapons, camouflaged jump suit, padded balaclava and goggles plus each of the stags receive 100 paintballs to get them started (you can choose to buy more ammo as needed).

Once all the grooms are armed and ready, battle will commence. The marshals will explain each new mission and scenario. Of course you can up the ante and keep things entertaining by choosing to give the groom some hi-viz clothing or a bright pink onesie to wear to make sure mummy's little soldier doesn't run off and hide or get lost. The fact that he's now a sitting duck for the rest of the stags is just an added bonus. Well, the day wouldn't be complete without a great stag prank or two.

At the end of the session one team will be declared the victors while the others should be awarded pint penalties later that night. You can also arrange Guest List Nightclub Entry for the lads to look back on the day's conflict.