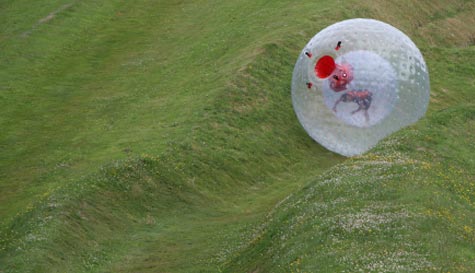 For years, hamsters have had all the fun - they get to store food in their cheeks without being judged, they essentially live in giant playpens with ladders and slides, someone else cleans up their sh*t and they get to roll around in those little plastic balls like bosses.
Well now it's your turn. No, it's still not ok to carry around food in your cheeks for days or just leave little stinky pellets behind you but you can now tumble around in an oversized ball like the over-sized, hairy, rubber-cheeked, thrill-seekers you are. It's called sphereing, and it will see you and the lads strapped in a giant ball, given a gentle shove, then sent plummeting downhill with just gravity to bring you to a stop. Spinning stags can hit speeds of over 30mph, on runs of half a mile in length, so this isn't for those with a faint heart - or a queasy stomach (trust us, you do not want to be stuck in a rapidly spinning sphere after your breakfast has made a reappearance).
But this is the perfect wake up call for any stags still feeling the effects of the night before. When it comes to hangovers this really is the ultimate kill or cure. Whether the guys will be thanking you for offering them your weird version of hangover remedy remains to be seen.
This isn't the kind of stag activity you'll do every day. In fact, it's likely none of the guys will have tried this before. It's also a really good excuse to get all the guys outdoors on a fine weekend to experience the call of the wild... Or at least the call of the stags. If you want to try something totally different that the lads will be talking about long after the wedding hangovers have cleared then sphereing is truly epic.