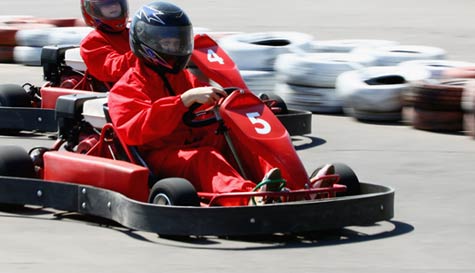 So you were a bit hot at Super Mario in your youth? Well, just like Sam Allardyce at a work tribunal, that counts for sweet FA. This is about real driving, getting the kart around the track in the quickest time possible regardless of how many stags you assist get acquainted with the tyre wall as a result, all's fair in love and Split stag weekend go karting.
This is a superb track where you'll also answer the age old question... "Who's the sh****st driver?" After a quick safety briefing and rundown of the rules of the road, you'll be hitting the track in 270cc Honda karts capable of speeds of up to 50mph. Each kart is fitted with a transponder which is recorded on a state-of-the-art AMB timing system which means at the end of the session each stag will get a precise print out of all their lap times and progress (or lack of progress) recorded over the session.
After a quick demonstration of safety and how to start, stop and steer your karts (with the focus being on winning AND keeping them shiny side up at all times) you'll then have time for a few practise laps. Then you need to get your game faces on as the real action begins, you'll be pushing your machines (and each other) to the max as you try to record the best lap times, these times will decide your grid positions for the grand finale.
Gentlemen... Start your engines!