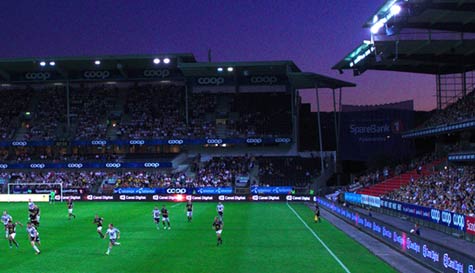 The groom might be...
A Messi-anic footballing genius
A cold-blooded, sharpshooting, goal machine
A boot-wearing donkey
During this fantastic sporting activity sadly we can't change your skill level. What we can do is create the ultimate sporting dream by arranging for you to play the beautiful game in your own stadium.
Playing in a major stadium is every boy's dream and now's the chance to give the groom one last taste of the big-time before he's relegated to life on the bench sofa with his new gaffa.
We've got some amazing pitches in Europe and the UK for you to hire and play on in your own Stag Do Cup Final. This takes the humble kickabout and elevates it to the lofty heights of a real footballing event that Motty himself would be proud to commentate on (unless you are playing like a footballing rabble seeing life through a hangover haze... which is quite possible). Whatever the case, this is a real favourite with stag groups and sure to be a winner with the lads as they put their tekkers into action and display their own type of 'Samba Futebol'.
And of course, when you do hit the back of the net you can run to the corner flag and celebrate with the thousands of travelling fans you brought with you (or the imaginary fans who will be choking on their prawn sarnies at your 'Jesus with a football' status).
"Yor goin' 'ome in a stag do minibus!"
So get your game face on, take the stag weekend and bend it like Beckham to give the boys a taste of the football highlife.