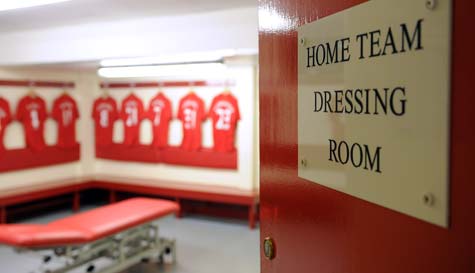 If you're diehard fans of the beautiful game, there's nothing more awe-inspiring on a stag do than an exclusive look around some of the country's most famous sporting venues. It's not just a tour - it's practically a religious experience, re-living your favourite football moments from history, seeing the hallowed ground that lies behind closed doors, experiencing the stadium from the perspective of the players, and learning some football facts that will enhance your matchday experiences for years to come.

If you and the lads are even remotely footie fans, this stag do activity is guaranteed to be a memory they'll hold for years to come, imagining the roar of the crowds and the euphoria of the winners as they see every aspect of the stadium.
You'll not just able to see the best of British football stadiums either - if you're heading to cities like Amsterdam, Barcelona, Munich or Lisbon you'll be able to visit stadiums there too, including the famous Johan Cruijff and Allianz Arenas as well the awe-inspiring Nou Camp. You really will be experiencing the world's best.
Wandering through the twisting corridors of the Santiago Bernabeu. Stepping out onto the turf of Stamford Bridge. Facing up to the facts in the press room of the Emirates Stadium ("What did you think of the Best Man missing his pint penalty, Arsene?" … "Oh, I did not see…") there's simply no greater way to celebrate a football-mad groom's big weekend than with an Official Stag Party Stadium Tour. Plus, if you take the guest of honour to the home ground of his favourite team, you'll be raking in the Best Man points for years to come!