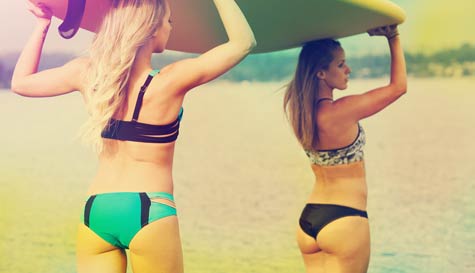 It's the coolest sport in the world for very good reason: it's totally epic! What other sport constantly features tanned, gorgeous people chilling out on pristine sandy beaches before rushing into white water and riding waves with style and swagger as if it's the easiest thing in the world?
Get wet and wild with the lads as you all go from newcomers to bona fide surfing pros. You can book the boys in for half-day lessons, full-day courses or even a weekend-long master class depending on whether you fancy learning the basics or picking up some serious rip curling skills or even enjoying it as a fun alternative to blasting each other with paintballs or racing go-karts around.
With the help of our professional surfing instructors, you'll learn everything you need to know in order to hit the waves yourself and enjoy some laid back sporting stag action. It won't matter if you can't tell your 'pits' and 'barrels' from your 'cutbacks' and 'floaters', our experts will be on hand at all times to help you get the most out of your stag party surfing session.
There'll be plenty of hilarious wipeouts to laugh at and remember down the pub later (provided it's not you) and it's a great way to get some vital exercise on your beer-fuelled stag celebrations. So grab your board, paddle out and hang ten with this cool stag activity! Surfing is the ultimate laid back beach weekend activity so treat the boys to some sand, sea and (hopefully) sun.