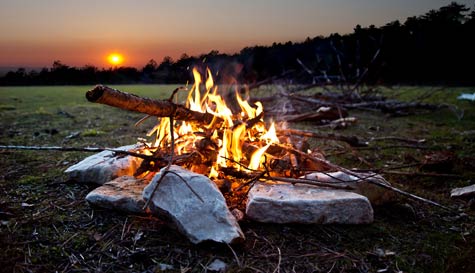 Unleash your inner action man, answer the call of the wild
and give Mother Nature a proper spanking!
If you have a hankering for the good old days of cavorting around the woods with the boy scouts, or just a simple appreciation of the great outdoors, then this is for you. Our fantastic survival day experience gives you a choice of 3 top packages, all of which take place in a stunning countryside location near Cheltenham. Each package includes a guided trek and food foraging session to get you started, followed by a bushcraft workshop, giving you the chance to show off your man skills by whittling a mallet, bow drill set or hearth tripod to take away. To finish up, you'll be tasked with building a fire - without the aid of matches - ready for a delicious campfire cook-up, which is included in the price, along with a refreshing mug of local organic cider each.
Gimme Shelter

Wild Trek - In Malvern Hills, learn to attune to your sensory awareness
Forage & Find - Identify edible and medicinal plants essential for survival
Bushcraft Workshop - Make a camping mallet perfect to use at a festival
Build & Burn - Learn to build a year-round survival shelter and make fire without a match
Fire Starter

Wild Trek - In the Malvern Hills
Forage & Find - Identify wild food and discover native trees for fire creation
Fire Workshop - Make the Stag a bow drill fire set from a native tree
Build & Burn - Make fire by friction and cook up lunch using wild food to flavour
Fridge Forager

Wild Trek - In the Malvern Hills
Forage & Find - Identify and select wild edible plants and culinary herbs
Make a Cooking Hearth - Make a greenwood cooking hearth tripod
Alfresco Cook-up - Build a fire and make a traditional soft cheese with herbs and a seasonal chutney