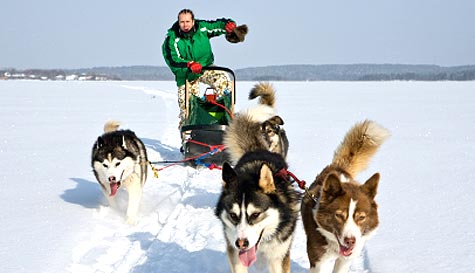 When you, the best man, are in charge of booking the stag do you need to do something a little out of the ordinary. You need to grab life by the Baltics and book you and the boys a dog sledging adventure across the icy wilds of Tallinn. It's the manliest winter wonderland adventure you're ever gonna go on!
Not only has it given us some of the world's most famous dog breeds (which look pretty awesome too) but this ancient method of transport is steeped in cultural history. But forget all that, it's just brilliant fun, riding along under dog power, feeling totally at one with nature, while getting all spiritual and hoping you manage to hold on so you don't look like a t**t in front of the instructor as you take on the twisting, bumpy course.
There really is nothing like the feeling of speeding across the tundra powered by nothing but a team of hard working dogs having the time of their lives. The dogs themselves are bred purely for the job of pulling sledges as a team and, as you'll see, are literally champing at the bit to get going. And boy when they get going the speeds you'll hit will take your breath away.
Once you get going, each stag will be taken on an individual three mile journey lasting around fifteen minutes, deep in the Estonian forest with the wind in your face and the sounds of your furry engines pulling you along. Whether you're a dog lover or not it's hard not to be blown away by the whole experience, it's an adrenaline rush you'll never forget.
Unfortunately the handlers count the dogs before you arrive and after you leave so there's no chance you'll be able to secretly get one back onto the transport undetected!