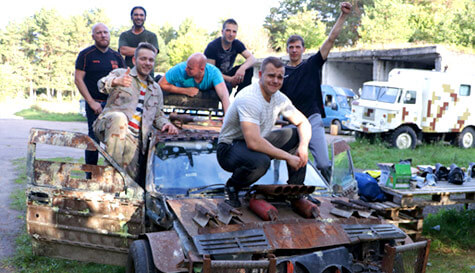 If Mad Max ever shot paintballs this is how he'd do it...

If you've tried paintball in the past and found yourself thinking "Well this is just too easy, what this needs is some suped-up wheels and moving targets..." then you're in luck!

We've had some Russian cars tricked out Mad Max-style (minus the deadly spikes on the front grill, of course, we don't actually want to maim anyone no matter how many times they managed to dodge getting their round in the night before). So while the basic premise is the same (cover the other lot in Dulux before they get a beady eye on you) this is much crazier as all the shooters on both sides will be hanging out the top of moving vehicles.

The cars will rag about the paintball arena and with one of you behind the wheel. You can't of course actually go wheel to wheel or dent fenders, however, some clever driving as well as extreme shooting accuracy is required to be victorious. You'll need a mix of Top Gear and Top Gun to turn your formerly close mates into instant paintball roadkill.

Guns, cars, laughter, hitting the groom when his back's turned, giving the best man's mullet a few new highlights, this really is the stuff that great stag weekends are made of.

Paintball Guns. Cars. Good mates... It's going to get... Emulsional.