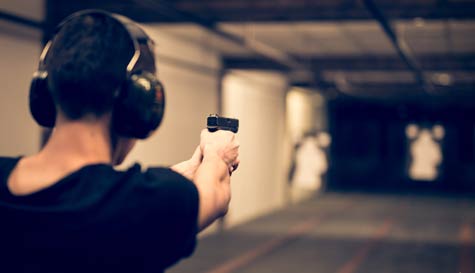 On your Estonian stag do, you shouldn't be settling for the same old activities you can take on at home. No, you need to be trying out the most unique action that Tallinn can offer you, so what could be better than an activity that lets you get hands-on with the type of firepower than you can only view through glass back home in Blighty?

Our Tallinn target shooting gives you the chance to do just that. What's more is that you and the lads will get the chance to take each other on in the ultimate shooting competition to settle once and for all who's 'Top Gun', and who should really be performing some kind of stag forfeit to pay for their horrifically bad sharpshooting ability.

Bad boys:

Glock - Used by police forces and special ops groups the world over.
Walther - Famously the Walther PPK is the preferred weapon of Bond, James Bond.
Marlin - Instantly recognizable, smooth bolt action with class and history.
Winchester - This really is how the Wild West was one. Every cowboy movie star has held this iconic gun.
AK47 - One of the most famous and revered guns in the world. The AK47 really is in a class of its own.
Please note; In the UK it is illegal to own and/or shoot some of these guns so this is a really unique opportunity to shoot some of the most iconic handguns in the world

This is a seriously awesome session where you'll get to shoot at a series of challenging targets of varying difficulty. With top instructors on hand at all times, even lads who've never even held a spud gun before will soon become sharpshooting professionals. Tallinn target shooting really is the kind of all-guns-blazing activity that creates unforgettable memories.