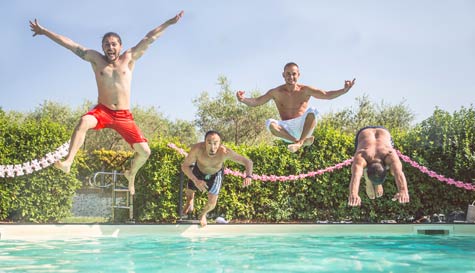 Imagine sitting on a luxury padded sun lounger, drink in hand, listening to top tunes and just gazing out at the azure blue Atlantic Ocean…. Now stop daydreaming and do it. Seriously! With our superb Tenerife stag party beach club you really can party like A-listers in this idyllic slice of paradise.
A place where the beautiful people tend to congregate on the island, the club has everything you need to give the blushing bridegroom a top class day out. It's also the finest place to get over the stag hangover and of the guys might still be dancing with from the day before.
Enjoy the sun, take a dip in the infinity pool or the ocean, there's also a DJ playing some relaxing tunes and plenty of eye candy for all the guys to enjoy. You can opt for a more exclusive package which includes a welcome cava cocktail for all the stags and nachos. There are also food upgrades available:
Bronze
Nachos
Hummus
Greek Salad
Caesar Salad
Olives Bread
Silver
Nachos, Hummus
Greek Salad
Caesar Salad
Olives, Bread
Fudge Cake
Cheesecake
Gold
Cheese Platter
Roast Beef Platter
Nachos
Spicy Chicken Drumsticks
Canarian Potatoes
Greek Salad
Chicken Caesar Salad
Mixed Meat & Fish Paella
Olives
Bread
This really is the perfect way to add an extra touch of class to the groom's big weekend and give all the groom's the perfect environment to get over any heavy partying from the night before.