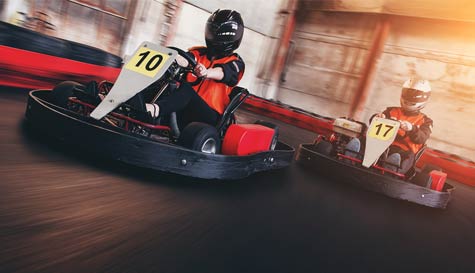 Us men like things that go fast. That's an unarguable fact. Whether it's your favourite footballer, your favourite fast-food joint or indeed your favourite car, time and more importantly speed is very much of the essence.
That's something that the boffins behind our Tenerife stag party go karting track fully understand, so they've decided to provide you with a 1200 metre track packed with hairpin bends, epic straights and tense turns so you can enjoy one of the most full-on race-day experiences known to stag-kind on your weekend abroad.
These karts might not look anything like the Bugatti Veyron of your petrol-fume induced daydreams but you'd be forgiven for imagining you're in one when you're burning through this massive track at full-speed. These bad boys can be serious track toys and deserve to be treated with due respect as you tear up the tarmac in a high-speed stag Grand Prix.
Race wheel to wheel with the boys and find out who comes out on top when all the cards are on the table and all the pedals are pushed to the metal in an epic day of motoring action.
Choose from:
13 laps: 3 lap warm-up before a 10 lap race.
23 laps: 3 lap warm-up, 10 lap qualifier, 10 lap grand finale.
Our Tenerife stag party go karting can provide fast thrills and a quick fix for any lads looking to exercise their need for speed on their big weekend without the hassle of having to look after real racing cars. On your marks gents...