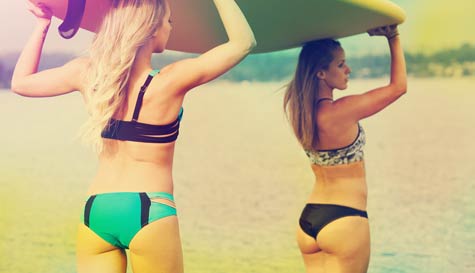 If you want to look cool during your stag weekend then this is how it's done. As sports go there is nothing cooler than surfing and our Tenerife stag weekend surfing package will transform the guys from hungover, city dwelling Brits to sun-kissed surfer dudes.
Tenerife is considered to be "Europe's Hawaii' due to the fantastic climate all year round and the perfect combination of tides and winds that create superb surfing conditions for beginners to dip the toes in the water of this epic sport. You'll visit's Tenerife's official surf school where the friendly team will meet you all and get you kitted up.
Once all the guys are looking awesome in their wetsuits (or at the very least you've finished ripping into each other and stopped making comparisons to "over stuffed sausages") and you've posed for a group photo it's then time to learn how to ride the boards. You'll start on the beach, learning how to balance and steer the board as well as the correct method to reach a standing position.
You'll then hit the waves, each stag will have a 'soft top' board which makes for a softer landing if you do hit it on the way down. The instructors will be on hand at all times to help give the guys more pointers and make sure everyone gets the most of our Tenerife stag weekend surfing package and without doubt the coolest activity you can try on this superb island.