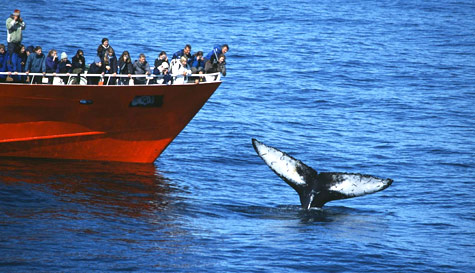 Yes, believe it or not, there are bigger things out there than a stag party hangover and this fantastic, once in a lifetime Tenerife stag party whale watching trip will allow you to get up close and personal with some of the biggest mammals on the planet.
The trip will begin with free transport from your accommodation direct to the port. On arrival, you'll be welcomed aboard by the crew ("Ahoy there!") ready for you to start sharpening your best pirate gags and Jaws quotes ("Here's to swimmin' with bow-legged women.").
The boats crew and guides will head out to the best waters to see these spectacular pilot whales which on average grow to around 7.2 metres and weigh 2,300kg. The waters around Tenerife are also home to porpoises and dolphins so this could be your chance to do the full Attenborough.
As well as the superb animals the stags will also enjoy the free bar of unlimited beer, wine and soft drinks (sangria not included), each stag will also get a sandwich or bocadillo (that's Spanish for sandwich, not Espanyol's central defender).
The boat is a sleek catamaran which will set sail from Playa De Las Americas and during the trip will pause for a swim stop so you can go overboard and enjoy swimming in the crystal clear waters off the coast of Tenerife or get kitted up and bring some snorkelling gear to look for more aquatic wildlife.
This is a great day to just chill out, top up your tans and see some totally amazing sights. It's what stag dos are made for!