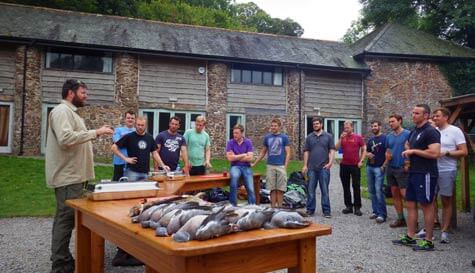 Sometimes as men, we just need to get back to basics. Now we're not suggesting you give everything up and go live up the nearest tree, but getting away with the lads enjoying nature's wide-open spaces and bountiful larder really will give the lads a day to remember.

You'll learn top tricks from a survival expert and then put into practice a whole host of vital skills that require teamwork, skill, concentration and manliness (yes, you at the back, butch up, you're letting the side down!). You will be taught expert techniques to survive on your own in the wild, such as fire-lighting, knife and axe work, campfire cooking, shelter building, amongst others.

If you are choosing a half-day's bushcraft session, you can also add another stag activity to your itinerary to really make it a superior day of man challenges:
Coasteering - This is a serious physical challenge as you navigate the coast by climbing, diving, plunging into waves and working as a team to get from A to B in the toughest way we can find!
Kayaking - Explore the fantastic coastline of South Devon, visiting secret coves and beaches, exploring caves and islands. These tours regularly spot seals and other marine life that are plentiful in South Devon. In summer months you are even able to fish for mackerel!
Climbing - Time to totally put your trust in your fellow stags as together you tackle the heights head-on. Last one up is a best man's whipping boy!