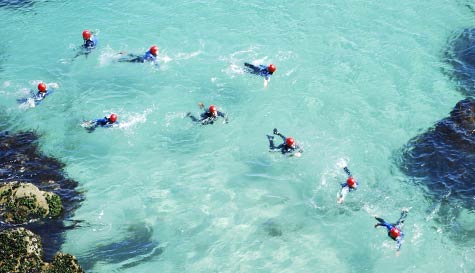 Go-karting, raced it. Paintball, aced it. Hooters, been there, done that, seen the tight T-shirt... Finding new stag adventures can be hard. But not anymore!

Torquay stag party coasteering is, without doubt, one of the most epic challenges known to stag-kind. And yes, we realise "epic" is an overused word, 'epic night out', 'epic burger', 'epic' explanation from your girlfriend as to why she needs to go shoe shopping again... But coasteering truly is EPIC!

Set against a backdrop of some of the most stunning coastline in the UK, you'll be climbing cliffs, scrambling over rocks, swimming in eddies and whirlpools, heading into caves and leaping off those cliffs. This is one day out that will definitely separate the stags from the boys and there is a certain amount of physicality required to be able to contend with being pushed to your limits by the instructors.

You'll be kitted up in a wet suit, helmet, buoyancy jacket and wet boots (we'd advise taking an old pair of trainers) and what's more, we know you guys will make them look good. You'll then head onto the first leg of the journey. Coasteering is literally steering your way across coastland using all means necessary, that could be scrambling over the rocks, climbing cliff faces and leaping off the cliffs into the churning water below. This is certainly NOT for the fainthearted.

So if you think you're tough enough for what is one of our most popular activities, we'd recommend booking today as there are limited slots available over the summer months.