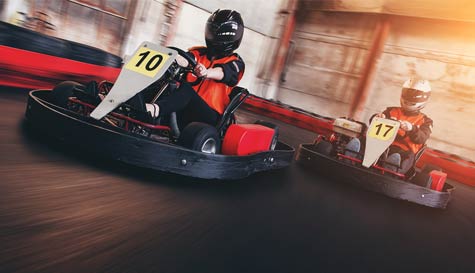 Go karting is a long-established stag party winner, it's fast, furious and often hilarious as the lads go wheel to wheel in some full-on stag racing action.

Our stag party in Torquay is a superb outdoor circuit with a 350 metre fully boarded track, complete with tyre walls which are not only suitable for those new to go karting, but is challenging enough for old hands and driving supremos. All the karts are top of the range Rimo Evo 5 Karts and each race session is controlled by state of the art 'ROC' timing system, which times races, works out grid positions, lap times to 1000th of a second and provides a detailed printout of your results.

Now let's just think about that for a second... Not only will you get full printouts so you can see exactly how well you did, who improved the most, etc. It also means you can pinpoint exactly who was your weekend's weakest link, your very own Captain Slow. Penalty pints or forfeits should be set accordingly.

Of course, the glorious flip side is that it will also help crown your champion, the ultimate "Stig of the Stag" as well as who recorded the fastest lap time.

After a few warm-up laps, you'll then battle it out with a series of heats. Once the top guns have been established those fastest few will go on to a grand final with a trophy presentation for the top three drivers and a bottle of bubbly for the winner.

Whether your fellow stags are all fellow petrolheads and speed freaks or if you have a varied assortment of boy racers, road-ragers or Sunday drivers, this is non-stop foot to the flaw action perfect for any stag weekend.