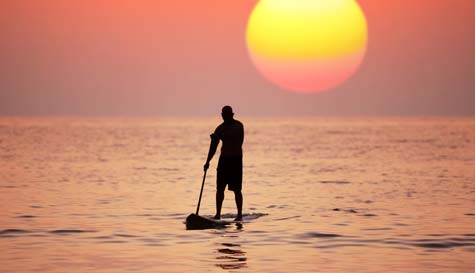 Hit the water for a fantastic day of wet 'n' wild fun! Our Bournemouth stag party Stand Up Paddleboarding (or SUP) is a totally diverse, fun sport that is growing rapidly amongst water sports fans and newcomers and it is easy to see why. SUP is fairly self-explanatory really; you will stand up on a long surfboard and use a paddle to blast through the water.

Balance is key, though watching your best mates struggle with staying upright and crashing into the water is another vital ingredient. While top-class paddleboarding does take some mastering, the sport is very accessible and even those that traditionally aren't sporting heroes will soon be up and paddling (with just the occasional splash as another stag gets a face-full of brine).

Your instructor will meet you and teach the SUP basics, and then once you've got the hang of it you'll need to get your game faces on as you line up for a series of races and challenges to scratch the competitive itch that afflicts all great stag dos.

And one of the added bonuses of our Torquay and Exeter paddleboarding activity is the setting, as you'll get to enjoy the stunning Devon coastline.