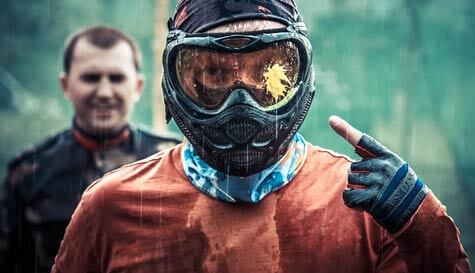 At our Torquay stag party paintball centre, we don't like to make things too complicated. We understand that all you need is a good bunch of lads, a few hundred paintballs, some pinpoint accurate paintball guns and a groom to aim at. Of course, it helps when we kit you out in top drawer gear and set you loose in some of the best paintballing terrain across the UK.

Unleash your inner Schwarzenegger and go one-man army on the enemy, firing from the hip while cracking a grin, or go guerrilla in the vein of Rambo and give your rival stags a war they won't believe. With semi-automatic field inferno markers and seasonal paintballs, you'll have no problem giving the groom a makeover to remember.

Our Torquay site offers some epic paintballing with a varied terrain and a series of purpose-built props, obstacles and structures for your use throughout the day. The dense woodland site comes packing a deep ravine with a stream running through it, while game zones include everything from bridges to bunkers and towers to crashed aeroplanes, ensuring your games will be as fresh as the groom's bruises.