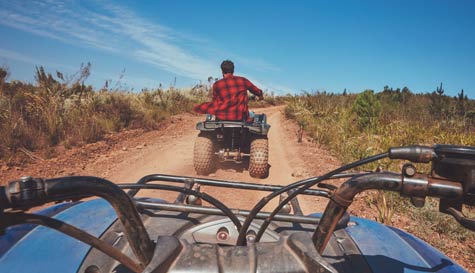 Our Torquay quad biking stag party is no simple off-road affair. Here, you and the lads will be in for over 12 miles of hazardous terrain for you to negotiate on your own personal quad. At first glance, you might wonder how these smaller vehicles can be so fearsome. You won't for long. These bikes are completely formidable when it comes to riding on even the most dangerous terrain. On these quads you'll be able to run absolute roughshod all over the track, demolishing pretty much anything you see fit as you go along.

At this quad bike track in Torquay, you'll be treated to different courses of varying ability, with each one harder than the next to challenge the lads to keep pushing themselves to the absolute max. You'll charge down woodland trails - but watch out for trees, they hurt. The lads will find themselves sliding down muddy slopes, negotiating with boggy puddles and trying their utmost to remain seated on their quads on the most uneven of ground. This is an adrenaline-fuelled, white knuckle ride sure to make any stags weekend.

And if that doesn't sound enough for you how about time trials on a purpose-built obstacle course? This is the ultimate test of any lads driving skill. You'll have to find the perfect balance between speed and control, or you might find yourself in perfect balance between the ground and the top of a tree...