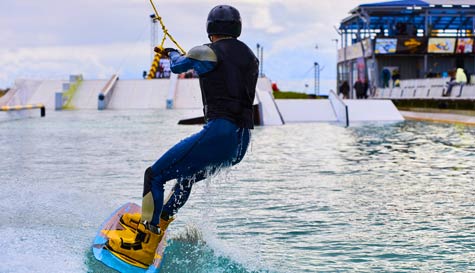 If you're heading down to Torquay on your stag weekend, it'd be a crime not to take advantage of the gorgeous seaside whilst you're there. Getting out on the seas is fun, fresh, exhilarating, and will certainly show that hangover who's boss!

It's certainly thrilling, and it'll get everyone's adrenaline pumping as you and the boys take in the stunning scenery which characterises the English Riviera. What are you waiting for? Jump in, lads!

Whilst you're away on holiday, try your hand at top-class waterskiing, wakeboarding and of course a good bounce around on a bunch of inflatable ringos! You and the boys will enjoy all of your fantastic sports fun on the picturesque Goodrington Sands in Paignton which is just 10 minutes down the road from Torquay, and you'll get all your equipment, wetsuits and tuition from B.W.F. qualified instructors included. All you have to remember is a pair of trunks - Speedos not recommended...

Our Torquay watersports offer the perfect chance to wash away any excesses from the previous night's antics, and there's no better way to spend some quality bonding time with your best mates. You'll laugh at each other as you get dunked in the sea when you wakeboard and cheer each other on as you learn how to water-ski... but mostly you'll laugh at each other!