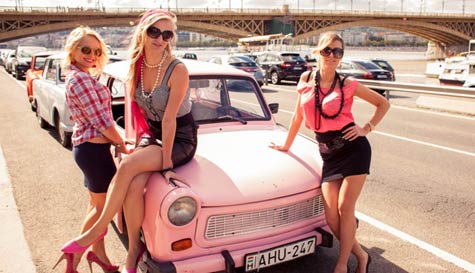 As Jez Clarkson himself might say "It's probably the best stag party driving experience "in the world". Our fantastic stag party rally is the closest most of us will ever get to a real Top Gear challenge (without getting fired from your job or causing the meltdown of the world's greatest motoring show) and it is truly awesome!
The Cars
With a top speed of a massive 56mph yep that's fifty-six!!! these humble communist-era cars aren't about to break any land speed records, but what they lack in horsepower (more like old nags) they more than makeup for in character and pure driving experience. This is old school driving at its best and you really do feel connected to the road. Produced in the former East Germany for 30 years, there were virtually no improvements made to the original design in all that time. Which just makes their two-stroke engines and clunky design all the more lovable.
The Stars
Just like the world's No1 motoring show, it's not the cars that are the stars of the show, it's the stags. 1 bloke behind the wheel while his passengers (max of four per car) rip into him at every given opportunity, and there will be lots! We love driving this funky little machines and you will too.
Road Rave!
Once all the cars are lined up and travelling in convoy its hilarious fun, plenty of banter, great sites, terrible driving and non-stop laughs. You'll be touring some of Europe's oldest cities with our stag party Trabant rally available in Berlin, Budapest and Prague. You'll have a guide to show you the sites but all the driving, the good, the bad and the 'What the fugly?!?' is down to you guys.
"And on that bombshell…"