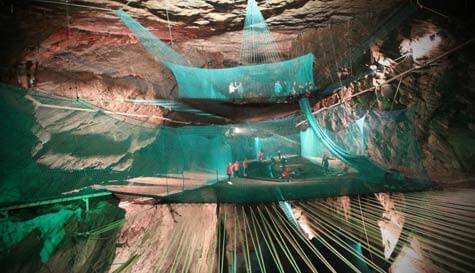 Even Batman didn't have a Bat Trampoline!! Forget ideas of kids trampolining in their back gardens, this epic activity involves trampolines suspended across the raw walls of a cave up to 180 ft in mid-air! This is one activity that seriously isn't for the fainthearted and will certainly separate the stags from the boys. In fact, even Batman might have to change his Bat Pants after a few minutes on this bad boy.

As purveyors of the weird and wonderful, we certainly know something extraordinary when we see it - and the world's largest underground trampoline certainly fits the bill and is perfect for adventurous adrenaline junkies.

Set inside an enormous cavern twice the size of St Paul's Cathedral, there are three giant trampolines that are placed 20, 60 and 180 feet off the ground, each linked by a 60ft long slide and walkways. With all the walls covered in stunning technicoloured lights, it is a striking sight. In short, it is totally bonkers, but makes for an amazing experience.

A completely unique activity (the first facility of its kind in the world, no less), it is only accessible after a 5-minute train journey, taking you 100 feet underground. After kitting up and listening to the important safety briefing, you have a 1-hour session of slightly surreal hilarity as you take advantage of this subterranean wonderworld.
Why not try...
Why not add the Ultimate Zip Wire Experience to your itinerary to really ramp up the adrenaline junkie thrills? Please speak to your account manager for further details.