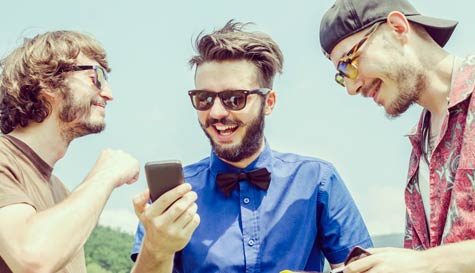 Race against both the clock and each other as you take on the stag party Treasure Hunt, a series of mind-boggling challenges, puzzles and clues designed to push your (possibly hungover) brains to their limits. You'll split off into two teams, nominating a captain (if the groom doesn't volunteer himself it's your duty to do so for him) who'll download our specially designed app onto their phone or tablet using the latest GPS technology.
Then the timer will start and it'll be up to you to follow the digital breadcrumbs and cross the finish line before your stag rivals beat you to it. Not only will you take on some serious head-scratchers, but you'll also go up close and personal with some of your destination's famous landmarks as you try to solve these often hilarious riddles and challenges.
But don't spend too long laughing... The opposing team will never be far behind, and if you're going to walk away with the first major bragging rights of the weekend you'll need all your Sherlock Holmes-style intuition to work out the clues. And seeing as this is thirsty work there might even be a chance to stop for a cheeky pint along the way.
Our Treasure Hunt stag party is a brilliant experience and a great way of cracking the ice between stags who might have never met before. After all, when the losers could end up facing some pretty humiliating Dares and Forfeits, who doesn't want to be on the right side of that finish line?