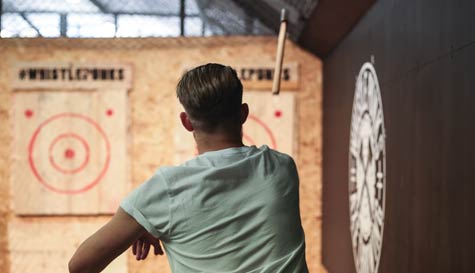 Imagine playing darts but where the darts have the ability to fell trees. Because that's what stag weekends are all about: taking everyday pub games and making them potentially lethal. You're welcome.
Urban axe throwing is a brilliantly competitive challenge all the guys will love. First off there's the competitive side, that innate need to beat your mates at any sporting challenge, especially if one of them is about to get married. Then there is the pure, unadulterated joy of throwing a bloody great axe at a target. It's all a bit Game of Thrones.
There's also the practical aspect, because when the zombie apocalypse comes, (oh, it's coming) you probably won't have a pump-action shotgun or high-powered hunting bow to hand, but you can easily get your hands on a little chopper... Ok, stop giggling at the back, you're better than that! This is also the first line of attack for ninja lumberjacks.
An expert will show you how it's done and teach all the guys the basic technique, you'll then have a practice session, hearing the satisfying 'thud' every time your axe hits the target. Once all the guys have a few goes it's time to get competitive. You'll compete in a series of rounds culminating in a semi-final before the best shots battle it out in the final.
Anyone who scores high enough will get a T-shirt and get their name on the wall of fame. We believe in you.
Brilliant fun, slightly crazy, hugely competitive and a handy skill to have ("Stand back, I can open that tin of beans from here…"), it's the perfect addition to any big weekend.