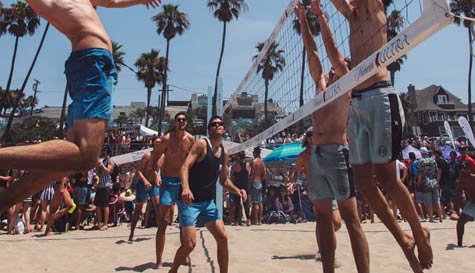 This is exactly the kind of day stag weekends were invented for! Fooling around on a stunning beach with your best mates, playing sports and drinking beer. Life just doesn't get better than this and it's the perfect addition to any Valencia weekend.
Not only will you get to burn off some energy, enjoy some awesome beach games and feed that stag party competitive streak, you'll also get to work on those pre-wedding tans, get some great Instagram photos and swim in the beautiful Mediterranean Sea. Plus we'll get the beers in.
The session starts with one of our friendly instructors who'll provide all the kit, rules and refereeing where required. All you need to do is provide the teams, winning mentality and deadly competitive streak. Because winning is for winners! (or some other more motivational coach-speak).
There are four Valencia stag party beach games to enjoy;
Beach Volleyball - You've seen it at the Olympics. Now you can recreate the most famous scene in Top Gun, because you're just as cool as Maverick, Goose and Iceman.
Badminton - A sport that works even better when you can dive around on the sand.
Rounders - Awesome team game that all the guys can wind each other up with. Expect sledging, banter and open stag warfare.
Water Pistols - Because sometimes you've got to fight fire with fire… Or, erm water.
You'll also get two beers each and soft drinks to help protect you from dehydration (always a good reason for drinking beer on a beach). Plus there'll be snacks. And with the sea right beside you, you can all stay cool throughout the day.
There'll be two instructors for every twenty stags, these guys are impartial and completely un-bribable, no matter how badly you want to win.