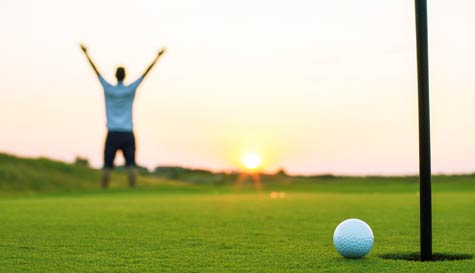 Spain is renowned for so many stunning things, creating world-conquering football teams, stunning food served on lots of little plates, Penelope Cruz. And then there are the amazing golf courses.
Maybe it's the sun, maybe it's the gallons of sangria but every time StagWeb head to Spain we marvel at the beautiful, spotless courses and Valencia is no exception.
You and the guys can create your own mini Stag Do Open with forfeits, prizes, the whole pre-wedding tapas menu, all you need is a little planning. We'll provide you with a top-quality nine-hole course. The beauty of playing nine holes is that it doesn't take up too much of your day, leaving you free for more stag action.
But for a morning activity, golf is perfect. Especially for a group of potentially hungover stags. You'll get fresh air to clear those heads, warming sun, a gentle stroll to get the alcohol moving around your bloodstream (or blood moving around your alcohol stream, depending on how big a night you had). You'll also get loads of stag do banter.
Green fees and club hire are included so there's no problem if you haven't brought your own hitting sticks. The course is just 10 miles from the centre of Valencia, transport is not included but we can arrange it for you (fees may apply). There's also a clubhouse to grab a drink or bite to eat after the game while celebrating/drowning your losses.
The perfect warm-up to a day of big stag laughs.