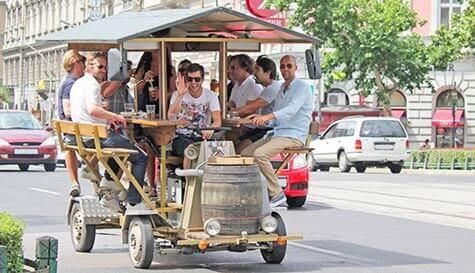 With only forty-eight hours in Vilnius, there's so much to cram in. You want to get out and about, you want to do something a bit different, get a bit of exercise, have plenty of laughs and spend plenty of time beside the bar... Well, now you can have your pint and drink it with our Vilnius stag party beer bike.
It's the greatest mode of transport ever! Your very own mobile pub where you get to pour your own drinks as you pedal. There's even a driver/pub landlord to do the steering (because you should never drink and drive!).
The Vilnius beer bike is exactly what it sounds like, lots of beer and one giant stag-powered bike. It's a hugely popular and something totally mad and therefore more than fitting for a top-class stag weekend. It's also the best form of exercise we've ever heard of. We don't quite know what to call it ("pub-er-size"?), but it really does make the thought of getting fit taste so much better. Rather than hours wasted on a stationary bike you can cycle this one. While drinking! Win/win.
You'll meet at a pre-arranged central location in Vilnius, where the driver, bike and the beer will be waiting for you. You can then mount up and get drinking. Well, it's thirsty work all this pedalling malarkey and we don't want anyone getting dehydrated.
There's no better or funnier way to raise a glass to the groom than our Vilnius stag party beer bike, so saddle up and hit the road.