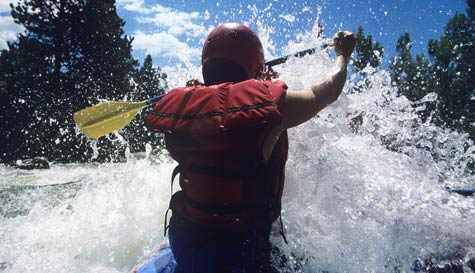 If you're looking for a new challenge and a great way to build up a thirst ahead of a big night then our Vilnius stag canoeing adventure gives you the opportunity to see Vilnius from an unusual, unforgettable viewpoint. It's not quite a tour - there's no annoying guide wittering on about the cathedral in your ear but you will still get to see the city from a unique, amazing perspective. It's both active and interactive as you take yourselves on a journey along the River Neris, sailing right into the heart of Vilnius.

The English speaking instructor will get you all kitted up and onto the river then show you the ropes which all the lads will pick up in no time. You'll then enjoy a leisurely ride along the River Neris before ending back in the city centre, just in time to quench your thirsts with a well-earned beer or two.

It's not a white knuckle ride by any means - well, not unless you're really bad at canoeing at any rate, but that doesn't necessarily mean your journey is in any way sedate or sedentary, we're fairly sure you'll soon be putting together your own Vilnius stag canoe races to see who'll be buying the beers back on dry land. While it's a laid back and suitably relaxing journey you'll still be pushing your muscles beyond their comfort points whilst still giving you the chance to have a laugh and enjoy Vilnius to the max. It's also the perfect way to blow off any hangovers, plus there's the excellent chance that you might get to see the groom take a dip.