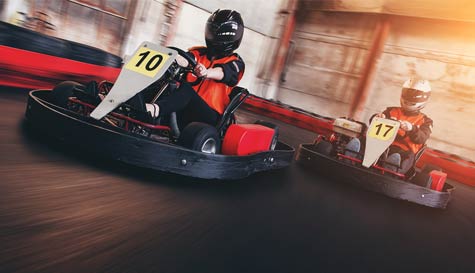 At our go karting in Vilnius, you'll discover just why go karting is one of the most popular stag activities of all time. It's fast, adrenaline-fuelled wheel to wheel racing fun that is sure to get the lads laughing as they try to finally settle who amongst you are wannabe stag Stigs and who really should've been left at the starting line. These karts might not look much at first, but after you've burned down a few straights you'll realise that at speeds of up to 70km/h these little karts can provide some serious brown-trouser moments as you hurl yourselves around the many corners and bends this track offers you.

The track itself used to be home to the Baltic States Karting Championships, meaning that when you and the boys arrive at this go karts stag party in Vilnius you'll know it's the real racing deal. This is the closest you'll get to the complete professional karting experience without actually entering into it yourself (something you might be tempted to do after the thrill of leaving your mates in the dust).

After all the racing is done, you'll have left it all on the track and the most speed-happy lads will be rewarded with a bottle of bubbly for their epic driving skills. Whereas all the losers will be picking up is the tab at the first bar of the evening!