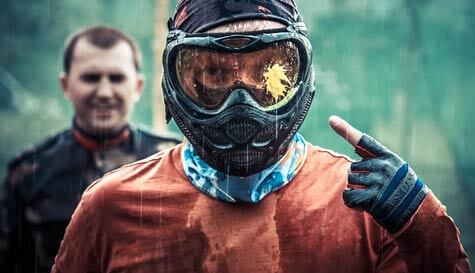 There's a reason our Vilnius stag party paintball is so popular: it's epic. You don't need to reinvent the wheel to make paintballing awesome, and that's why it's a sure fire stag classic. Get your best bunch of lads together, kit them up in the latest advances in paint warfare and send them out into the battlefield to go and indulge their inner Chuck Norris, charging into the fray like the Texas Ranger himself, covering themselves in honour, fame and glory as they cover their rival stags in paint.

Our Vilnius stag party paintball centre will send each of your party into war with 200 free paintballs, ensuring everybody comes back with a colourful new look, a smattering of bruises and a childish grin from ear to ear. Make sure to save a few paintballs for one final round of "shoot the stag" to make sure the groom has a particularly memorable day out.

With game zones based around a Soviet military base deep within dense woodlands, you'll all be darting between trees, sliding through the undergrowth and using the site's many props to gain a tactical advantage over the opposition.

You can always add an extra laugh by taking a hi-viz jacket or bright pink onesie for the groom to wear so 'mummy's little soldier' doesn't get lost. If it also makes him easier to hit then so be it!