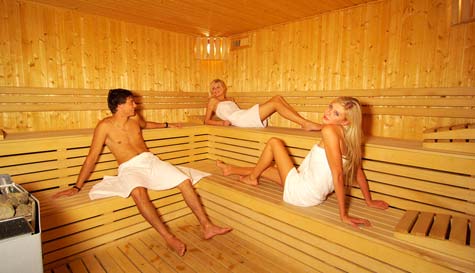 A stag weekend can be a pretty hardcore event, what with all the adrenaline-pumping action you'll be getting up to in the Lithuanian capital, you might be left feeling a little worse for wear. So if you've left yourself with a flat battery from legging it around a paintball arena or from taking on the off-road challenge of quad biking, recharge with our epic sauna.
This is the perfect opportunity for you and the boys to relax to the max as you'll be heading to one of Vilnius' top saunas to heal your war wounds and nurse yourselves back to fighting fitness. With several different saunas to choose from you can even get away from the noisier stags for a while. Whether you fancy sitting back and relaxing in a classic, modern, or even an Egyptian themed sauna on your big weekend, there's sure to be something for you here.
However, like most European stag activities, our stag party sauna comes with an exciting twist. You'll have a waiting service that'll tend to your every need, with food and drinks available (not included). You can even add a stripper for a few extra laughs, but keep your hands above the water at all times please chaps.
So don't let the action of your stag do slow down because of a few crippling hangovers or some truly impressive bruises from your paintball battles, get the lads together for a session of true stag relaxation. It's a great way to detox before you head out that evening and retox.
Ask our team about adding extras, pre-ordered food, drinks and a stripper. Transport can also be arranged if you're feeling lazy although the venue is in the city centre, so you can also have a life-affirming stroll back to your hotel. The perfect Sunday morning before heading back home.