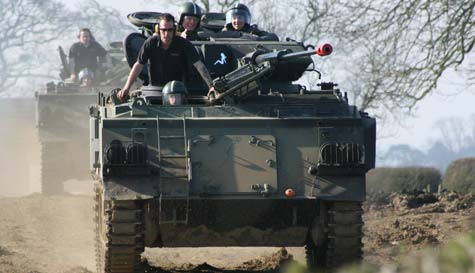 On your big weekend, you'll be hard-pressed to find an activity as awe-inspiring or exhilarating as this. Imagine it now, that low grumble, then a massive roar as this tank's engine comes to life, destroying any terrain in its path with your stags at the controls. Oh yes, it doesn't get any tougher than a tank - a monstrous, heavy metal machine capable of crushing anything you point it at.

They're the ultimate symbol of strength and force, and in our tank driving experience, you'll have the opportunity to not only ride in one but drive it yourselves. First things first though, you'll need a decent amount of tuition. There's no messing around when it comes to these behemoths, they can cause some serious damage and you'll need all the help you can get if you're going to dominate this course.

But with experienced instructors on hand at all times, you're sure to be running roughshod over this awesome multi-terrain track in no time at all. Steering this iron giant is the biggest power rush around, and it definitely gives the lads a chance to prove just how manly they are - there's nothing that says 'macho' like being at the helm of a tank.

The Lithuanian capital is full of unique activities for your big weekend, but if you're looking to go massive, then our Vilnius tank driving will be just the thing for you. If you want to reach the pinnacle of a masculine stag weekend activity, it's got to be tank driving.