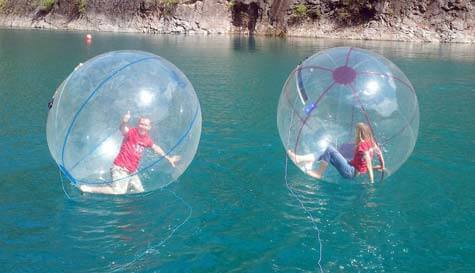 At some point we've all wondered what it'd be like to mimic Dynamo and David Blaine, pulling off awe-inspiring, unbelievable acts of superhuman skill that defy logic and all the laws of physics. Now, with water walking it doesn't take a miracle (or a ridiculous amount of trickery) to do the impossible, as you'll discover for yourselves!

At the UK's deepest inland dive site (so yeah, without all the smoke and mirrors there is a decent-sized drop beneath you) you'll be placed inside your own giant inflatable ball before you head out to the waters surface. Then the gasps will come as you perform a true stag miracle by rolling gently or otherwise across the water with the greatest of ease.

This is an awesome experience, but it's also an epic challenge as (would you believe it) walking on water isn't as easy as it sounds. There's sure to be some big laughs here as you and the boys slip and slide inside your inflatable balls as you try to keep your balance on the waters surface.

Although it's a widely accepted rule that what happens on the stag-do stays off Facebook, we're sure there'll be some exceptions here as you're basically guaranteed to catch some great footage of stags behaving madly.

Stag party water walking is also a great ice-breaker for lads that haven't met before as no-one's going to be an expert at this. Without any running around or added pressure on joints, this is a great option if the groom has made the classy move of inviting his Dad and new father-in-law along for the ride. Everybody's sure to love this, and there's big laughs to be had and even bigger thrills.