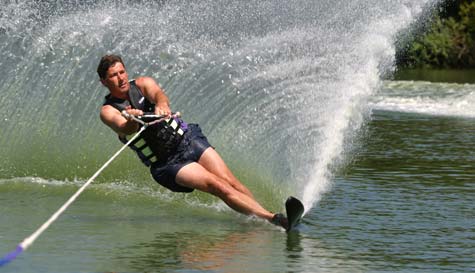 Whether you're balancing on one longer ski or you're strapped into two, stag party waterskiing really is an epic challenge. Keeping your balance on the water in an activity like surfing is tough enough, but when you're being pulled behind a motorboat at high speeds, by a driver who's probably looking to make life on the water pretty difficult for you, it's almost guaranteed that you're going to take an unfortunate dunking.

But that's exactly why waterskiing is such a great inclusion for any big weekend away, it's mad, bad and hilarious to know. There really is nothing so laughter-inducing as watching your best mate wobbling on his skis as he gets going, before getting rather cocky when he eventually does catch his balance, only to have his gleeful grin wiped away when he goes flying face-first into the surface of the lake.

We wouldn't take the mickey too much though, as soon enough it'll be your turn to take to the water. These skis take some serious skill to master, and you'll have to put any previous skateboarding or snowboarding experience to good use as you're flung around the lake. But don't sweat it, even stags who've never tried anything like this before can soon become waterskiing pros with some top tips from our expert tutors, and soon enough you could find yourselves pulling off some neat tricks.

Waterskiing offers you a fantastic way to get out of the city on your big weekend. This is adrenaline-pumping, white knuckle fun that offers spectacular entertainment throughout. So get wet and wild, and learn a new skill in the process... if you can manage to spend more time on the water than in it!