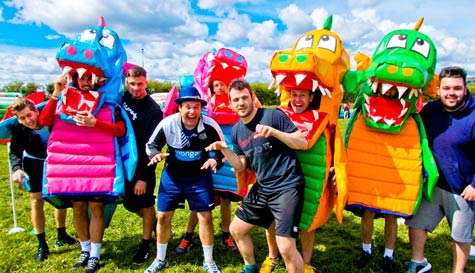 Away from the pub, every stag do needs three vital ingredients: sporting competition, laughs and plenty of madness. And our Welsh Challenge delivers all three in one riotous afternoon of chaos.

Don't expect serious sporting events, be prepared for non-stop belly laughs, but you won't be alone, as well as taking on your fellow stags you'll find yourselves going shoulder to shoulder with hen parties and other stag groups in a massive afternoon of what is, without doubt, the funniest stag activity west of the Severn Bridge.

And what's more, there's a little sting in the dragon's tail just waiting for the groom with a brilliant stag do prank.

Once you and the boys arrive at the Welsh challenge site, you'll first meet up with your instructor for the day, sort out safety and then get familiar with your surroundings. Next, let the games begin...

The 9 challenges you'll take part in are:
1. RUGBY RUN: Even if you and your mates think of yourselves as rugby playing gods, get prepared to try, try and try again! Scoring on the pitch is a whole lot more difficult when you're attached to a giant bungee.

2. LEEK LAMPIN': Yep, this is man against man in single combat, armed only with giant leeks.

3. WELSH CELEBRITY KNOCKOUT: Pick your Welsh celebrity, take up your weapon and... Ready... Aim... Fire!!! The most hits takes the points.

4. SHEEP SHENANIGANS: This is rodeo riding Valleys style, hold on to your sheep and get ready to ride. No! Not like that!!!

5. DRUNK DRAGONS: Wearing the giant dragon suits you'll race over rugged Welsh ground. Teamwork is a must.

6. DUFFING DAFFYD: Everyone knows that Daffyd wants to be the only one in the village - but this time, there's an invasion of lycra-clad Welsh boys! Get out your daffodils and stick up for Daffyd.

7. ACROSS THE TAFF: Do your best to avoid a dunking in the "Taff' when you safely carry a whole army of sheep and dragons from one side to the other in your very own Celtic Coracle.

8. PULL THE PIT PONY: Every good mine needs its own pit pony, but this nag is about ready for the knackers. With a team at either end, you're on for a huge tug-of-war.

9. MINER'S SHOWER: The groom won't see this one coming and we're keeping tight-lipped about this fantastic stag prank.
Venue Distances
From your chosen stag city to the Welsh Games venue.
Cardiff - 15 miles
Brecon - 50 miles
Swansea - 55 miles
Cheltenham - 56 miles
Please note: Arrival times for this event are 10.30am & 1.30pm